We're happy to present a new book on BAM. Its unique feature is the blend of short chapters explaining the BAM concept interspersed with brief case studies of BAM businesses.
Mats Tunehag writes about BAM from Biblical, historical, global, missiological and conceptual perspectives. He also gives an overview of the development of the modern day global BAM movement.
Gea Gort has written over 25 case studies of a variety of BAM business from various industries on different continents.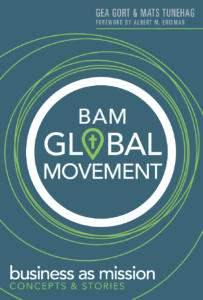 Some endorsements and various sales points are enclosed below.
"Business as Mission has become an enormously powerful movement in the transformation of God's world. This book is an excellent and varied collection of moving stories and biblical insights, showing how business conducted to the glory of God can revive and unite communities. I hope and pray that it will inspire many more innovative projects." —Dr. Richard Higginson Director of Faith in Business, Ridley Hall, UK
"Gea Gort and Mats Tunehag lay a solid foundation for BAM from a biblical and historical perspective, and on this foundation they address a wide variety of topics facing BAM entrepreneurs. The biggest contribution of the book, however, is the rich insight gleaned from the stories of real-life BAM entrepreneurs. Each chapter includes stories from the field of practitioners facing challenges of operating in corrupt, less-developed countries, addressing human trafficking, generating a multidimensional return on investment, and more. Tunehag's experience within the BAM ecosystem lends credibility to the book and allows for connections with BAM practitioners from around the world."  —Dr. Ross O'Brien, Director The Center for Business as Mission, Dallas Baptist University
"Thankfully, there are now many authors who have written on the theology of business and its importance in God's kingdom. However, the variety of examples and stories in this book truly bring it to life in a way that is clear and compelling. It is time that God's purpose for business becomes a global movement!" —Bonnie P. Wurzbacher Former Senior Vice President, The Coca-Cola Company; Chief Resource Development Officer, World Vision International
For more endorsements, click here
You can buy our BAM book – hardcover and Kindle – from the following: