Slavery is illegal but continues. Up to 30 million people are held as slaves today. Human trafficking is not only illegal – it is an evil. It degrades human beings, it tramples human dignity, and it creates untold pain and unbelievable misery.
The global awareness is rising quickly and manifestations against it multiply. But we are yet to see a major breakthrough in setting the captives free, which is more than a rescue operation. The survivors need healing and jobs with dignity. Jobs are also essential to adequate prevention to human trafficking.
The global BAM Think Tank is proud to present a groundbreaking report on how we can combat the business of the slave trade with Business as Mission, BAM. It gives a thorough analysis of the problem as well as providing concrete and practical steps to get engaged. Business is key to prevention and restoration, but by partnering with non-profits a greater impact can be achieved.
The global anti-trafficking movement is growing, but the biggest challenge may yet be to bring business solutions into the arena. This report helps us understand how businesses can become Freedom Businesses. But this is more than a concept; it is more than an awareness campaign. This is about hard and diligent work in and through business, intentionally and with a holistic approach bringing freedom and restoration by providing jobs with dignity.
This report trumpets a new call to freedom – through freedom businesses. We must allow it to ring and be heard widely. As Martin Luther King said 50 years ago:
"When we allow freedom to ring, when we let it ring from every village and hamlet, from every state and every city, we will be able to speed up that day when all of God's children, black men and white men, Jews and Gentiles, Protestants and Catholics, will be able to join hands and sing in the words of the old Negro spiritual, "Free at last! Free at last! Thank God almighty, we're free at last!"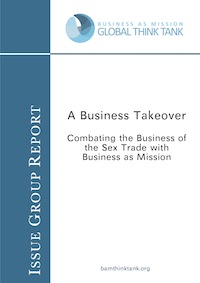 To download the report, click here: Business as Mission and Human Trafficking